Emigration to America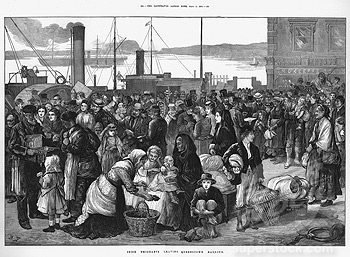 The "Potato Famine" cost millions of lives in Ireland. Many left their homeland for a better life. Families became separated; they could only afford for one or two members to go at a time. The Irish found a new life, but were treated so poorly in America. Jobs were scarce for the Irish. Immigrants were considered to be filth and struggled to rebuild their lives.
I was overcome with such strong emotions in Cobh while reading some family stories. I wanted to trace my family roots, but we were pressed for time. Also, seeing the names of those never found from the Titanic disaster was overwhelming.
Home Page
Starvation equals Emigration
Last Port of Call For the RMS Titanic
Deplorable Conditions


Email: bio1216@yahoo.com